EDIT MAIN
The Libraries @ Timbo School
Two Libraries...One Voice...Making it Count
"Play is the highest form of research"
Timbo Library Makerspaces
Ask how the community can support our new spaces!
---
Library Mission
The mission of the library media program is to promote reading for pleasure and seeking knowledge and to ensure that students and faculty are competent users, collaborators, producers, creators, and sharers of ideas and information.
Goal
To support and promote literacy*
READ to grow, discover, and change
PLAY to invent, create, discover, collaborate, share
*Literacy: reading, writing, research, digital, coding, invention
---
The Library @ THS
Timbo High School
The Library @ TES
Timbo Elementary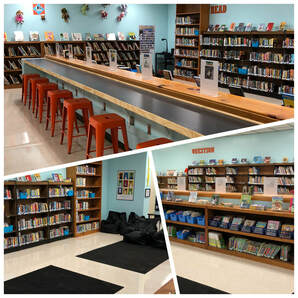 ---
Resources
---
For Teachers
Timbo Libraries Teacher Resources
---
Follow us...
---
Surveys & Forms